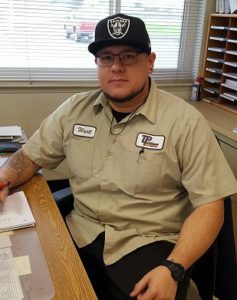 Our first featured employee for 2017 is Wyatt. He is one of our dispatcher/customer service reps at our main office in Madera. He will take your order, collect payments and trouble shoot problems.
His favorites are any type of food, all the Star Wars movies and loves all sports especially Football and Hockey.
His dream vacation would be to go Ireland to tour the Guiness Brewery.
Asked about what the best part of working at Tesei Petroleum, "Working with great people"
Did I mention he is a major 'Raiders' fan and part of the Raider Nation.
It has been a pleasure to have Wyatt in our office, his is passionate about his love of family, sports and work.